A zone 5 short season climate can be difficult for a passionate vegetable gardener.  One of the ways we found to extend the season is with a hoophouse.   We built these a few years ago, and have been planting earlier in the spring and harvesting later in the fall ever since.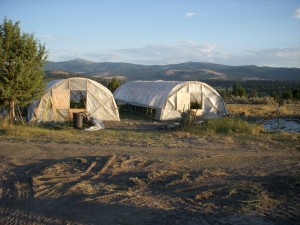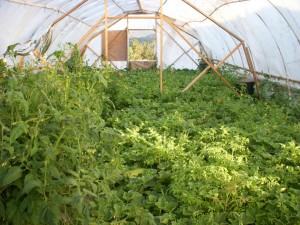 We built this hoophouse slightly modifying the techniques described in the book Green Winters by Jack Frazier.     The biggest benefit of this design is that the sides roll up about 3 feet to provide ventilation on hot summer days.  We obtained Mr. Frazier's design booklet from Peaceful Valley Farm Supply, but they no longer sell it.    I have a copy of it.  Send me an email and I can let you borrow it.
We also strategically place large plastic garbage cans full of water to create thermal mass near the plants that are most important to us.  As the temperatures get colder, the plants close to the water hold on much longer than other plants farther away.
Now we have home grown produce many more days of the year.      Yum!