Here is a chart that shows the vegetables  that we were most successful (financially) at growing and selling during the two years of our farmers market business.
Our farmer's market customers knew they could count on us for great tasting vegetables.  We extensively researched the varieties we grew.  We wanted outstanding production and great flavor.
Descriptions for many of these varieties can be found here.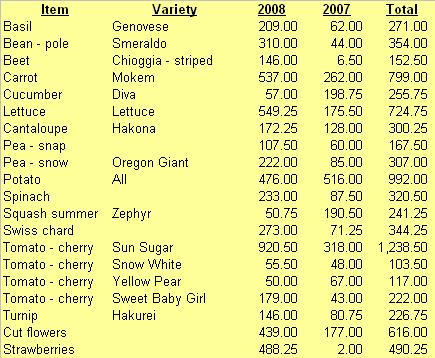 Below is an essay I wrote for a writing contest. I didn't win. It was written during the winter months when I had time for such endeavors.  It describes our experience.
A Bountiful June Morning
It's early morning and the beginning of the workday in our market garden.  The increasing light behind the hillside over yonder reveals the promise of abundant sunshine.  The fields up our country road are still bathed in green; the prize for enduring the spring rains.  The sweet songs and busy flights of the birds evidence their happiness in this haven.
In the next field over are the flowers; an indulgence that complicates our business of growing food; an indulgence I will never abandon.  I gaze, and ignore the weeds in favor of the multitude of blossoms.  Each sunrise seems to offer a new delicacy; a blossom that's sprung or a color combination that's married at this moment in time.
Lupine is today's gift.  The seed catalog calls it morello cherry.   I call it delightful.  I find starting plants from seed a challenge due to my lack of attention; perhaps a consequence of the multitude of tasks that demand my attention in the spring.  This baby was a breeze and is now beautiful too.  The spikes of wine red are unlike anything I've grown before.  My pride melds with my appreciation.
And I see a marriage; clematis Bill McKenzie (cupped fluted yellow flowers) with dark purple yarrow.  These precious sweethearts have chosen to join forces to please me, or maybe themselves if you believe what they say about plants' conscious preferences.
Early morning in the month of June is my paradise.  Seeing the bounty and counting my blessings are customary and effortless.
It's time to get down to business.
The hues of green and red that paint this season's 30 varieties of lettuce are almost as pleasing to my eyes.  Exquisite.  But I attend to this lettuce not specifically to commune with this beauty but to gather the fifty heads that I will sell at today's farmers' market.  Lettuce has been a friend to us and to our customers who appreciate finding this staple locally and finding varieties that are just a little different from the standard grocery store fare.
The summer's heat can make lettuce go bitter.  Our elevation of 4100 feet keeps our nights cool and the lettuce sweet well into the month of August.  Early on, our light-bulb-moment was the realization that cool nights could be our friend.  Tomatoes and cucumbers, hot weather lovers, are difficult at this elevation.  Our niche is the crops that prefer their environment cool.  We go with this flow and we thrive.
There is more color in my next pick; various shades of Swiss chard.  The green leaves are only half of it.  This trophy comes with different shades of veins and ribs; red, pink, orange, yellow.  Our customers will delight in the diversity.
I move on to harvest our sweet edible pod peas, picking many, snacking on many.  The fragrance of the bee balm flowers waft over to me and add to my delight.
The carrots I will head for next are a standard orange color, but the taste is anything but mainstream.  The variety we've found has immense flavor and sweetness.  Likewise for our turnips.  Early on, my turnips were "yuck", but hearing of our customers' desire for turnips and reading internet input helped me to find an outstanding variety.  The same with the candy striped beets and other items that are next on my harvest list.    It could be called "inventory".  I prefer bounty.  I am blessed with two acres of all encompassing bounty.
An explosion – it's the best way I can think of to describe the current interest in local, homegrown, healthfully grown fruits and vegetables. My attraction to vegetables happened to begin early with a childhood magnetism towards the splendor in the grandparents' garden.  Oh what I'd give to go back there for another visit.
The first farmers' markets I attended were in the early '80s in when I lived in Portland.  Back then, the small once-a-week Portland market had 20 vendors, but I would religiously attend and purchase.  Since then, I frequented farmers markets and market stands in and around Portland, and have grown a chunk of my own food, living in and near that big city with its perfect growing climate.
While doing this hobby gardening, I worked in an office; government finance for 20 plus years.  I moved to Eastern Oregon; accepting an offer to be Baker City's finance director. These were to be the last six years of my office existence.   At that point, I felt the middle-age compulsion to spend my work life doing something more satisfying. I join other folks my age who discern that there are rewards more attractive than the material.   I slowly extricated myself from my government job while tiptoeing in to the world of selling food.
For two years now, it's been a full time occupation.  I'm a farmer on my tax forms, though uncomfortable with that title. Farms are supposed to be big.  I'm a market gardener.
Challenges come with this trade.  At the top of the list is water.  Eastern Oregon is dry.  Vegetables are thirsty.  Old tires recycled into soaker hoses have been a saving grace.  They provide ground hugging water not subject to nearly the amount of evaporation as overhead sprinkling.
Freezing temperatures at night can last through the majority of the spring.  This has been mitigated with hoophouses covered in plastic and with lightweight porous fabric that warms our outdoor crops.
Our clay soil can choke roots.  Amendments of leaves, manure, coffee grounds, and vegetation waste make it more fluffy.
Critters like our plants.  We see the big guys; deer and the neighboring rancher's cows; and the small; rabbits, voles, ground squirrels.  Fencing installation and repair are endless.
Growing impressive food is never going to be easy.  The work is relentless.  But the rewards are many.  I reap good taste, good health, warmth, independence from the office, insignificant monetary proceeds, and summer's loveliness.  I revel in the bounty that surrounds me.